The Asian Business Creation Platform (ABC Platform) promoted by the Kansai Economic Federation is focusing on business matching from various angles with the aim of supporting business creation and economic revitalization in Asia and Kansai companies. ). This time, I would like to introduce an example of the combination of business needs in Singapore and cutting-edge AI technology in Kyoto.
An interesting relationship between Japanese tea and Singapore.

Japanese tea is one of the most popular export products in the world of health consciousness. In particular, exports of green tea continue to increase, and by country, the United States, Germany, and Singapore are said to be the top three exporters. In the Asian region, Taiwan has the second largest export volume of green tea after Singapore, but on a monetary basis, it is 3.1 million yen per ton for Singapore, while it is 1.1 million yen per ton for Taiwan (2016). There is a difference between the price and the Ministry of Finance data). This indicates that green tea for Singapore has more luxury goods.
In Singapore, Japanese tea is said to be perceived as "delicious," "good for health," and "low calorie." However, in reality, it seems that few people drink Japanese tea at home, and when you go to the supermarket, tea in a PET bottle is more eye-catching than tea leaves. It is also true that awareness of Japanese tea is not widespread. In other words, it can be said that it is an export product that is expected to have more "growth".

A project to spread Japanese tea in Singapore has started.

Against this background, ABC HORIZON, a Singapore-based subsidiary of the Asahi Broadcasting Group, a media company in Osaka, was asked to "promote Japanese tea."
We interviewed Mr. Osamu Nara, Managing Director of ABC HORIZON.
"We received a talk from a Japanese tea company that we would like to promote Japanese tea in Singapore as part of our overseas expansion. Therefore, we decided to organize a Japanese tea PR project centered on our local staff."
Mr. Hiroshi Nikaido, Senior Account Manager of ABC HORIZON, will continue.
"The Japanese company also had a branch office in Singapore, so I was familiar with the position of Japanese tea in Singapore. Therefore, I created a full-fledged Japanese tea enlightenment site that can be put in a squirrel instead of a pet bottle. It was decided to do it. "
It started with the creation of a site to broaden the image of Singaporeans enjoying delicious Japanese tea made in a teapot with their families.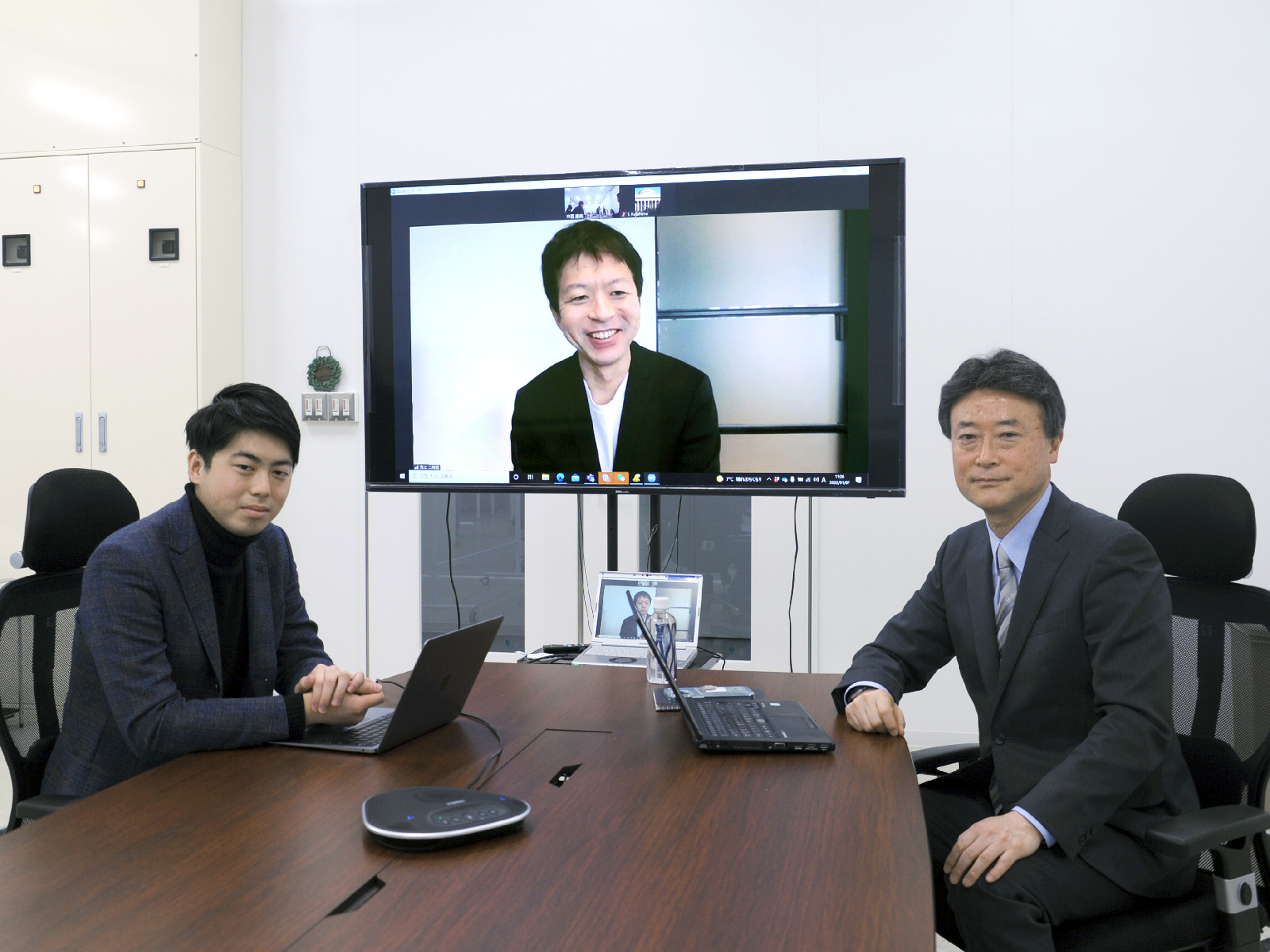 (From the left of the photo) Mr. Yuki Okada, CEO of Datagrid Inc., Mr. Koshi Nikaido, Senior Account Manager of ABC HORIZON, Mr. Osamu Nara, Managing Director of ABC HORIZON


However, due to the corona, the project was forced to correct its trajectory.

It was a meaningful project as a PR project to enjoy Japanese tea, but due to the prolonged corona illness, it was forced to correct the trajectory. I asked Mr. Nikaido to look back on those days.
"At first, I was planning to shoot a scene where a multinational family unique to Singapore is enjoying teapot tea as the main visual. However, due to the influence of the corona disaster, it was judged that it would be difficult to shoot with a large number of people. I was very troubled. The site creation itself was proceeding smoothly, but I have the impression that the creation of the "image of the family enjoying teapot tea", which is the face of the site, has stalled. I wanted to make it happen because the most suitable visual for the promotion was a family photo of enjoying Japanese tea. "
Therefore, he started to look for a way to create this main visual by a method other than shooting a model.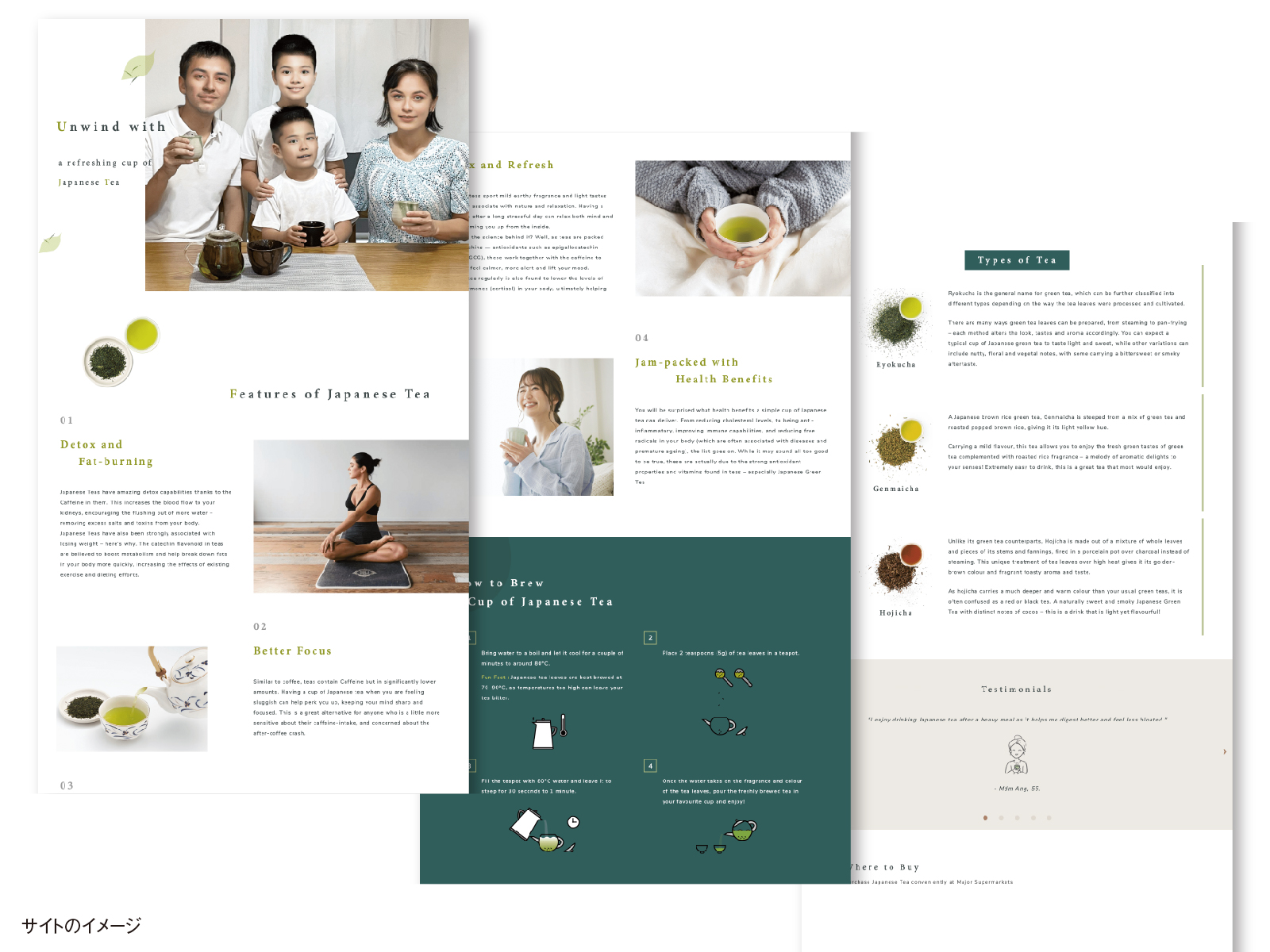 Therefore, we seek a new way of life for the ABC platform.

At that time, Mr. Nara was thinking that he could solve this difficult problem by making full use of the latest digital technology.
"We really wanted to make this family photo come true, so we started thinking about how we could do it with digital technology. At that point, we just learned that there was a business match for the ABC platform. So I decided to seek out an encounter with a company that was suitable for this solution. "
The ABC platform is focusing on business matching from various angles. This time, we will support the encounter with a company that has the necessary technology to develop Japanese tea promotion in Singapore.
"The ABC platform introduced us to a company called Datagrid Inc. in Kyoto. This company was a startup company established by a graduate of Kyoto University, and had a technology using synthetic AI called digital human generation. This time, by utilizing this technology, we were able to complete a family photo similar to the one taken by gathering multinational models. We were able to solve the difficult problem that we had been riding on with the power of AI. Thanks to that, we were able to successfully promote the promotion of Japanese tea in Kyoto. "
I saw a picture of "an image of a family enjoying tea in a teapot" created by this technology called digital human generation, but it looks like a picture taken with a real multinational model with a high degree of perfection. I was surprised to find it.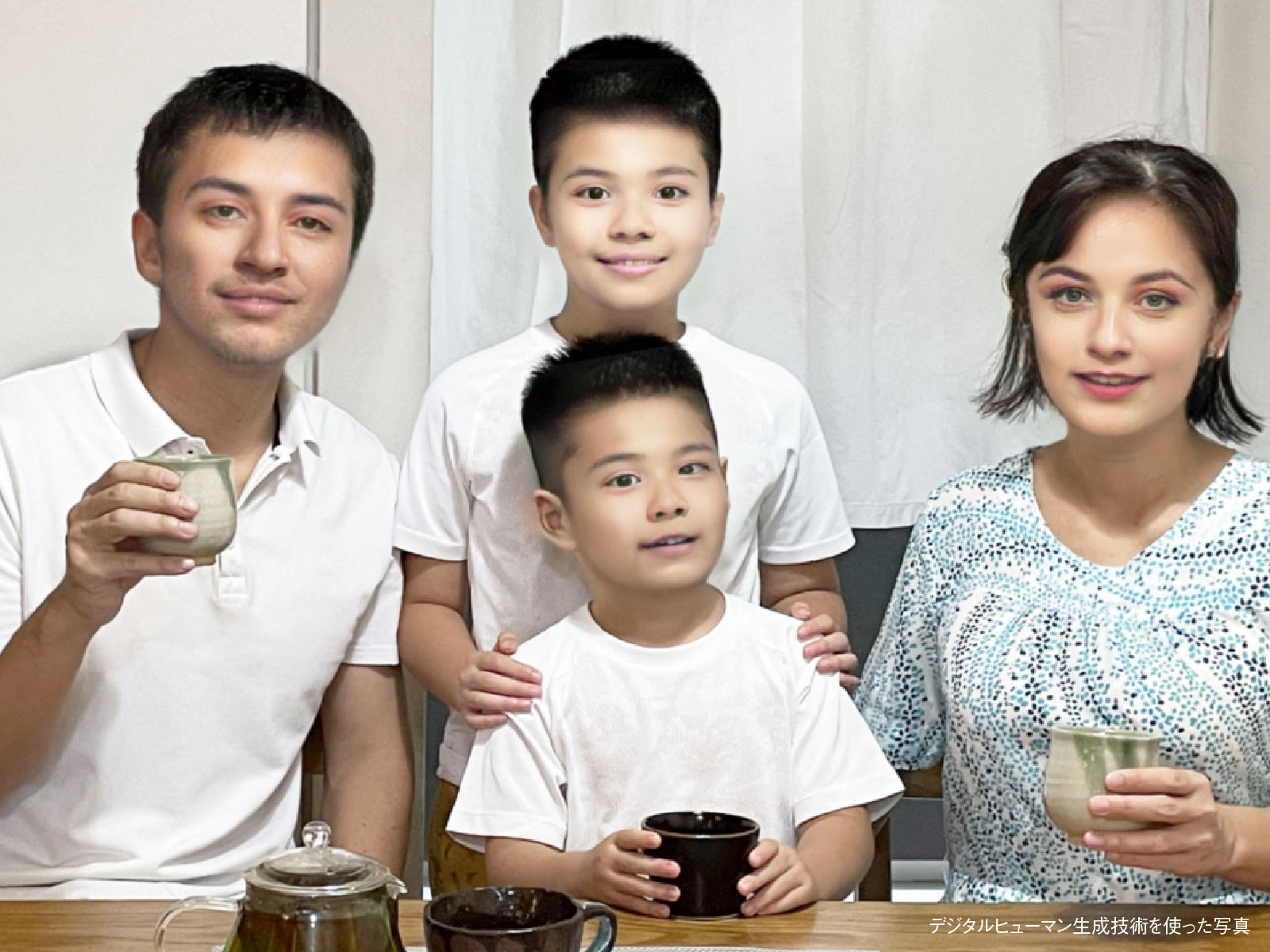 A technology called synthetic AI that has solved difficult problems brilliantly.

What kind of technology is synthetic AI? We asked Mr. Yuki Okada, CEO of Datagrid Inc.
"This consultation was about whether we could visually reproduce the multinational people and families peculiar to Singapore without taking a model shot. It was our digital human generation that made this possible. This is one of the various AI modules that we are developing, centered on synthetic data generation, and models people of various races, ages, and genders in a digital space. Is the technology that made it possible. "
In other words, it seems that AI technology can generate such fictitious human images, which are also realistic images like photographs taken, without having to collect and shoot multinational models. This is a great technology.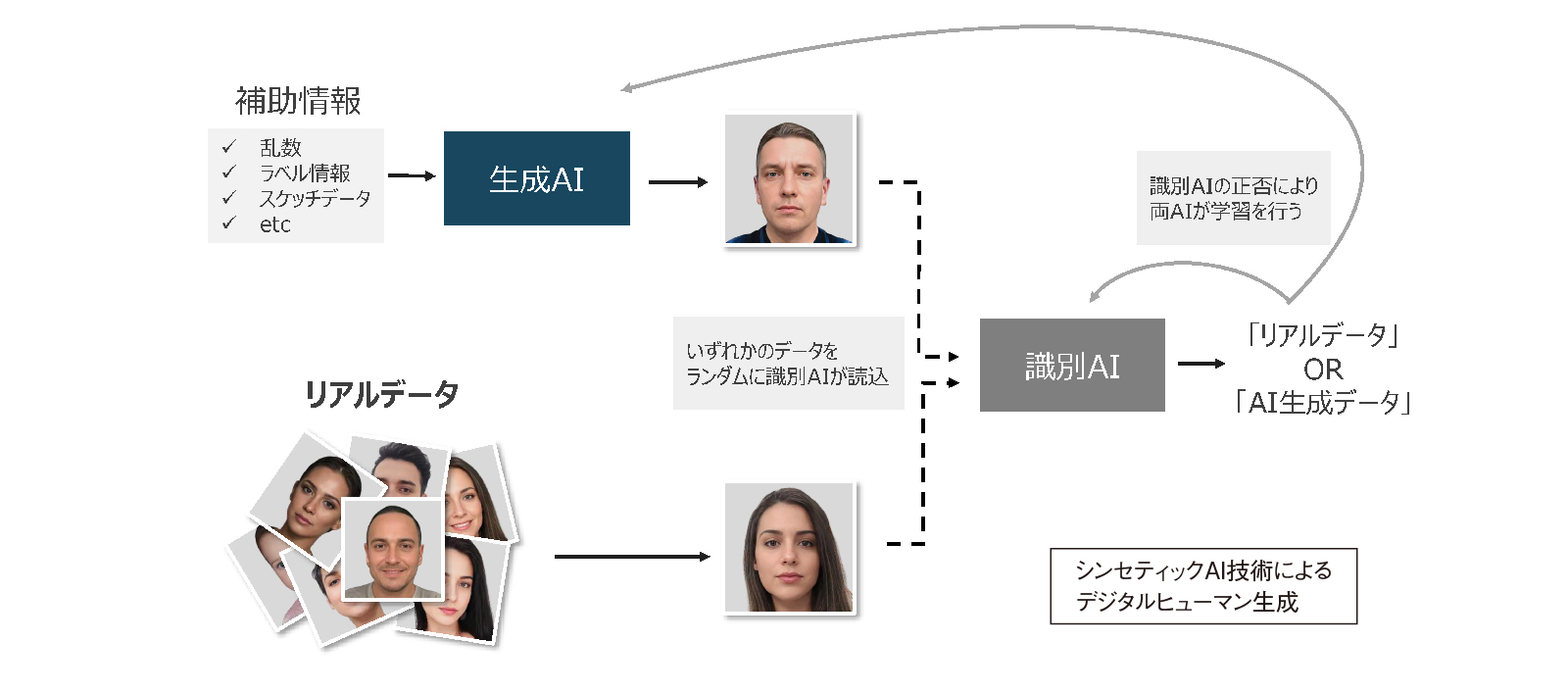 Possibility of further business development for ASEAN.

"This time, I generated and exchanged only the face based on the photo of the actual family, but of course it is a technology that can generate the whole body with AI and can put various poses. Also, clothes. If you prepare the data of, you can change your clothes, so now we are starting to provide a service called "virtual try-on" that allows you to try on online. "
Mr. Nara asked a question about the word "virtual fitting".
"Mr. Okada, that virtual fitting is a technology that can be used on EC sites. Specifically, how can you try it on?"
"Yes, first take a picture of yourself and upload it to our dedicated site. Then choose the clothes you want to try on. Then the clothes will be your picture. An image that looks as if you are wearing the clothes is generated and output according to Even in an environment where you can't try on clothes realistically, such as online shopping, you can choose clothes as if you tried them on, so I think it will become a new sales method in EC. "
Singapore is also one of the top e-commerce markets in Southeast Asia.

As anyone who has traveled to Singapore knows, free Wi-Fi spots are widespread throughout the city, including airports, shopping centers and cafes. Singapore is an advanced Internet country where it is said that about 90% of the total population uses the Internet. Furthermore, the penetration rate of cashless payments such as credit cards is high, and when that happens, the use of EC sites will naturally become commonplace. No wonder Nara responded to the virtual try-on.
I asked Mr. Nikaido, who lives in the area, about the EC situation in Singapore.
"In Singapore, there are many major e-commerce sites, and it is natural for everyone to use them casually, and a unique culture of using e-commerce has sprung up. For example, when asking young people how to buy clothes on e-commerce sites, If you have clothes you like, you will buy two different sizes. Buy M and S, try on the clothes you received, and if M is perfect, return S. Besides clothes. It seems that they do so with shoes. "
As expected, it is one of the top-class EC advanced countries in Southeast Asia. EC may be naturally rooted in life. Are Japanese products also sold in EC?
"Japanese products such as clothing are also popular. There are many brands that you often see in Japanese shopping malls. There are also EC sites that handle major Japanese brands, so I thought virtual fitting was good. Clothes are a virtual space. It's very new to try on, it's a system that Singapore doesn't have now, and I think it will be accepted by Singaporeans who like new technology. "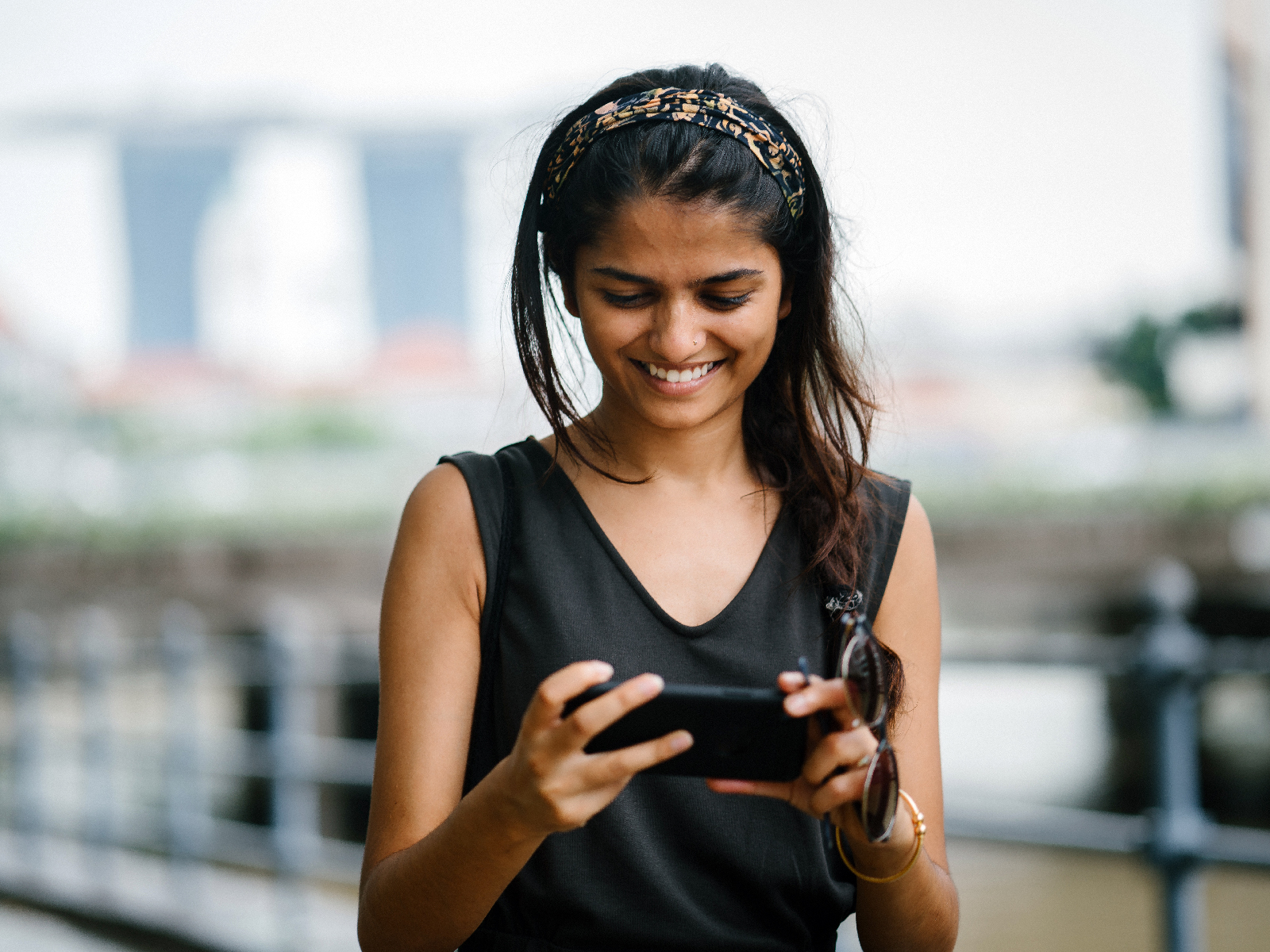 Now I want to access Singapore's youth culture.

I asked Mr. Okada about the future prospects of virtual fitting.
"Since the quality of still images has come out to a certain extent, we have received needs from various companies to move and use them. Since it is the age of Metaverse, trying on is not limited to still images. , You want to go around while wearing it. As the next step, we are also working on such 3D animation. It's a little technical story, but it's called Synthetic AI. Is a platform consisting of unique AI modules, APIs, interfaces, etc. based on the technology called GAN (Generative Adversarial Network). By utilizing this synthetic AI , Various applications can be developed in a short period of time at low cost. This is also our strength. This application can generate not only images and videos but also audio data such as conversations. Non-humans. It is also possible to reproduce the natural environment to help predict the harvest of agricultural products, or to reproduce the traffic environment and apply it to the development of self-driving vehicles. Furthermore, it is possible to reproduce and prevent equipment control mistakes in production plants. You can also create a plan. "
Indeed, it seems that the range of utilization of synthetic AI is not limited to humans, but this virtual fitting is already in the stage of being packaged and sold. Once again, I have a feeling that the co-starring of Datagrid and ABC HORIZON is about to begin. First of all, I asked Mr. Nara about that.
"Well, we definitely want to take on the challenge. Through the ABC platform, we were able to meet good companies in a timely manner. I feel that the business objectives of both companies are very well aligned. We will continue to be Japanese startup companies. It would be rewarding for us if we could help the overseas expansion of the company. Our company is originally a company that creates content. I would like to take advantage of the Asahi Broadcasting Group company. Using the technology of Datagrid. , I would like to make more and more proposals to the Asian market that such a solution can be created by generating a 3D image with a video. "



Finally, Mr. Okada concludes.
"Since the virtual try-on is already packaged, there is of course the work of translating the message into English, but I think that it can be used overseas as well. What we are making is visually appealing. The main advantage is that the language barrier is low and it is easy to expand overseas. This time, I met ABC HORIZON through the ABC platform and participated in a new initiative called the Japanese tea project. I think that this work has deepened mutual understanding, and from here I also expected that new business opportunities would open up in Singapore and Southeast Asia. We also have our own technology. We would like to find a partner to enhance our technology and utilize initiatives such as the ABC platform to expand our technology and business. "



■ Keyman who heard the story this time

Osamu Nara, ABC HORIZON Managing Director 

Koshi Nikaido, ABC HORIZON Senior Account Manager 

Yuki Okada, CEO of Datagrid Inc.

■ Profile of the matched company ABC HORIZON

As a member of the Asahi Broadcasting Group, a company that plays a role as a bridge to lead global businesses centered on Southeast Asia while leveraging the strengths of the broadcasting and content businesses. Headquartered in Singapore, we are developing new business areas that utilize cutting-edge technology. It develops content business, agency business, and startup research & consulting business.

Datagrid Inc.

Under the mission of "giving life to all data," we aim to contribute to the digital society by transforming various data in the world into higher-value ones. Headquartered in the International Science Innovation Building, Kyoto University, it organizes joint projects with various major companies, jointly develops solutions that utilize synthetic AI, and provides AI products.

+++++++++++++++ This article can be printed from the following PDF +++++++++++++++