Outstanding "molding technology" and "molding technology" are indispensable for molding processing. As an OEM manufacturer of "home appliances" and "automobile parts", strict quality control has been required regardless of any environmental changes. Nikko Kasei is pushing the limits of molding by combining unique technologies of "design" and "material development" and investing in an injection molding machine equipped with AI.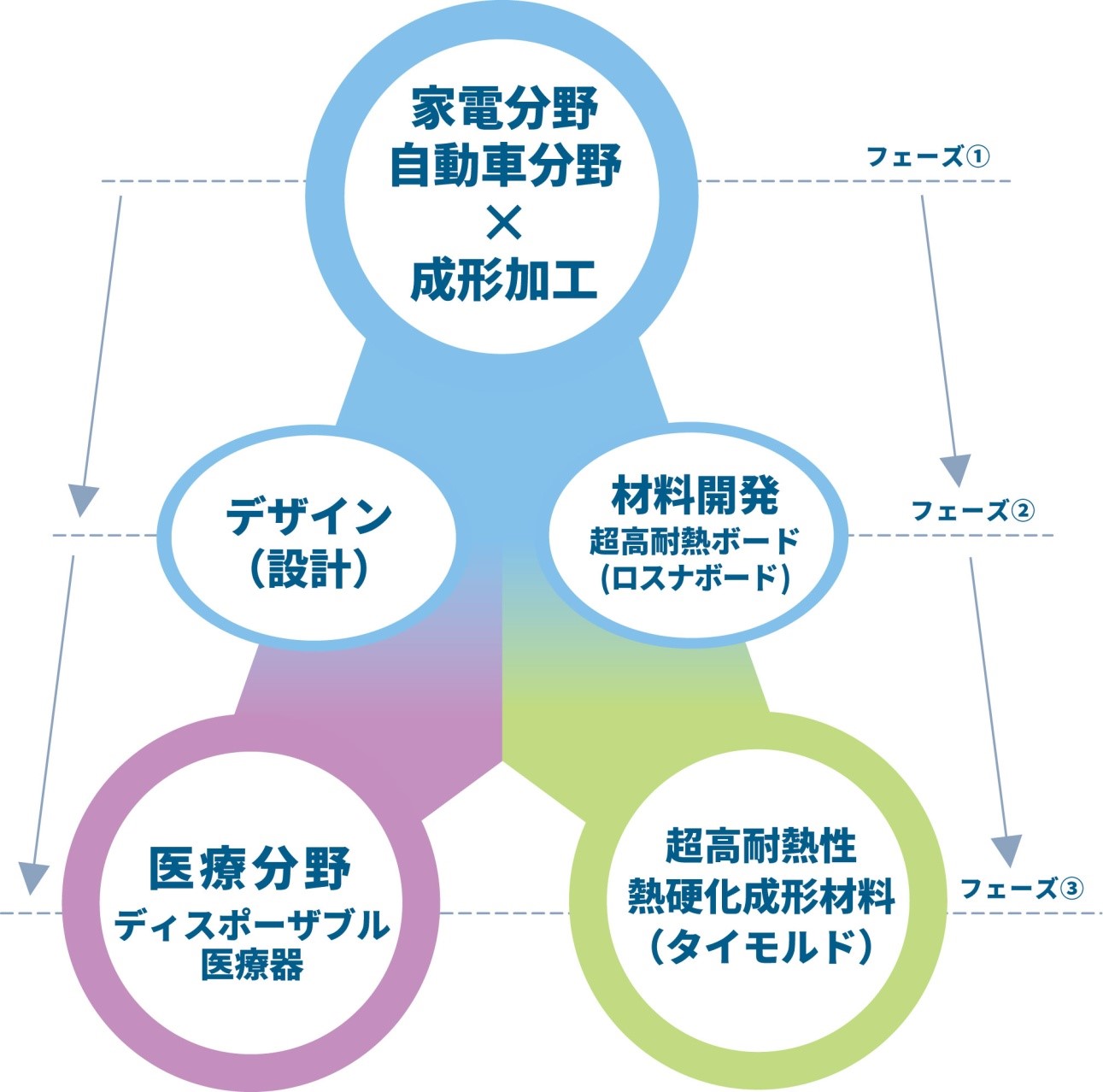 Change the world of molded parts by automobile x molding processing x material development


Nikko Kasei is a manufacturer that specializes in high-grade resin molding for precision molding of automobile parts. In addition to mere molding, we are aiming to make an integrated proposal from material to molding by blending higher grade thermosetting resin materials at our technical laboratory. As a moulder who knows all about the composition of materials, we will continue to push the limits of molding.

≪Phase ①≫ Started as a molding manufacturer of automobile parts

We were entrusted with molding and processing of various parts of internal combustion engine products for automobiles. Internal combustion engine parts are parts that can withstand the high temperature of the engine and have strength that does not break even under high voltage. It is called "important safety parts" in the industry, and if even one defective product occurs in one million pieces, it will be a life-threatening accident. We have learned the molding technology and mold technology as a product that requires strict quality control, precise mold accuracy, and reliability of molding processing.

≪Phase ②≫ Released "Rosna Board", a thermosetting resin, from a technical research institute with excellent compounding technology.


It is the highest grade of our heat resistant board products and is a long-selling product released in 1982. Rosna is one of the representative works of the research and development department, which sells high strength without changing its shape even under the harsh conditions of 20,000 hours at a high temperature of 400 degrees, and Nikko Kasei does not know it. Even if you say that you know Rosna board, this product can be said to be the origin of our company.

≪Phase ③≫ Utilizing the know-how of Rosna board, the super heat-resistant thermosetting molding material "Rosna Mold" was born.


Products used in automobile internal combustion engines. High heat resistance and high strength are required, so super engineering plastic resin is used.
"Rosna Mold" that has high heat resistance and functions even in a high environment High heat resistance and high strength of Rosna board
It is an innovative product that can be "molded" with a "mold" while maintaining the characteristics of. In addition to injection molding, it is possible to develop applications for compression molding.



Change the world of precision parts with medical care, molding, and design


Nikko Kasei is a manufacturer that specializes in high-grade resin molding for precision molding of automobile parts. The medical business started in 1970 with the aim of transforming from a contract-type company to a proposal-type company. In the same year, we acquired the "medical manufacturing license business", then acquired the medical QMS, and with the aim of becoming a medical venture, we established the medical design department in 2014 and participate in numerous medical device designs.

≪Phase ①≫ Contract processing of home appliances


We started as a molding manufacturer for contract processing of various home appliances such as TVs, refrigerators, vacuum cleaners, and shavers. The design and development was done by the home appliance maker, and the main business was the specifications and material selection of the obtained drawings, the production of molds that can be accurately reproduced, and the production of their products. As a parts processing manufacturer of made-in-Japan products, we have been involved in a large number of home appliance parts, and have contributed to the implementation of appropriate quality control in order to maintain the parts supply of Japan, the home appliance kingdom at that time.

≪Phase②≫ Design and design department established


Not many material manufacturers have a design department. Under such circumstances, we have an in-house design department, and our major strength is that we can not only share materials but also deliver parts in one stop. Occasionally, we receive orders as PB products for our customers. Not only materials but also design power is expected. Especially in the medical field, it is most important that the products used play a solid role in the medical field and that they are safe = the "shape" of the product. The "design" of the medical department has the origin of demanding precision and accuracy that are life-threatening. In this way, despite being a manufacturer, we have a design department and develop services in a form close to the final product. By doing so, we aim to "manufacture that is conscious of B to B to C" rather than just B to B, and we are quick to find hints for new material development and feed them back to the R & D department.

≪Phase ③≫ Disposable medical products are born as a medical venture


"Medical products (disposable)" (upper image, left)
A representative product of disposable medical devices, "Sampo Cock". A product created by adding design design technology to automobile molding technology and mold technology.
"Medical products (metal composite disposable)" (upper image, center)
A new disposable product that uses metal and resin. A product that makes the best use of both the characteristics of metal and the characteristics of resin
"Medical products (composite disposable of different materials)" (upper image, right)
Disposable products created by combining different materials other than resin, which were created through collaboration between medical and industrial engineering. A product that integrates many high-performance products



New challenges to create next-generation technology

We are promoting joint development such as "Open Innovation" that actively utilizes external resources for research and development and product development, and "Industry-Government-Academia Consortium" with university laboratories, and we are promoting Japanese manufacturing technology. We are developing state-of-the-art confidential projects that have been brought together. Furthermore, the business of disposable medical equipment has evolved into medical-engineering collaboration in the Corona disaster.
Encounters with various people and companies lead to new development and research businesses, and are the catalyst for our new research and challenges.


Technological innovation by utilizing cooperation with specialized institutions. Promote contributions to the local community


There are two research institutes that support the development technology of Nikko Kasei, Osaka and Shiga. In Osaka, I am in charge of medical and biotechnology development, and in Shiga, I am in charge of material development in various fields. While refining our own core technology, we are developing through joint research in collaboration with public R & D institutions in each region, major companies, and local universities.

Research activities rooted in such areas have been recognized, and
In 2018, Ministry of Economy, Trade and Industry "Regional Future Leading Company",
In 2019, the Small and Medium Enterprise Agency "300 flapping small and medium enterprises and small businesses",
Osaka Prefecture "Osaka Manufacturing Excellent Company Award",
In 2021, it was selected by the Ministry of Economy, Trade and Industry as "Excellent Health Management Corporation 2021".

We will continue to aim to be a "future-oriented company" that can contribute to the local community and society and realize further technological innovation.



For inquiries to our company, please click the "Inquiry" button below.