エンタープライズシンガポール(ESG)と協力し、シンガポール発の介護・高齢化関連のスタートアップ5社に登壇いただくイベントを開催しました。シンガポールは日本と同様に高齢化が進んでおり、その中でさまざまな新しい技術が開発されてきています。見守り技術としては、カメラを使うものが一般的ですが、カメラはプライバシーの侵害の問題があり、設置を嫌う場合があることと、そもそも設置できない場所があります。そこで、叫び声や激しい咳をAIで認識する技術や、温度を認識する技術がスタートアップから提案されました。また、屋内搬送ロボットや脳波を解析するスタートアップに加え、キノコ由来マイコプロテインを使ったゆで卵を販売するスタートアップが登壇し、注目を集めました。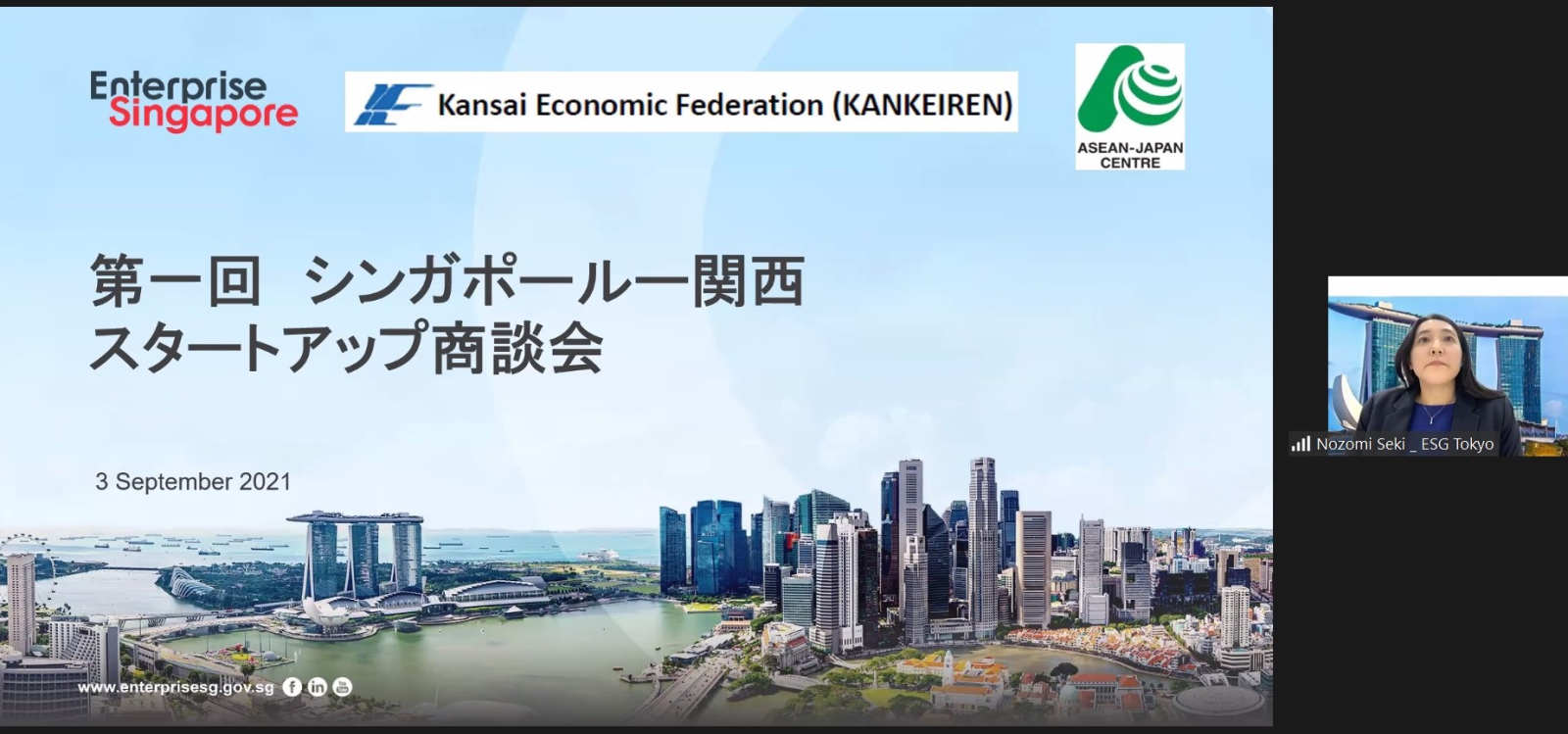 Event overview

○日時:2021年12月7日(火)13:00-17:00 (第一部13:00-14:20, 第二部14:30-17:00)
○主催:エンタープライズシンガポール(ESG)、関経連ABCプラットフォーム
 共催:日本アセアンセンター  後援:ジェトロ大阪本部
○参加費:無料
○内容と申込方法
第一部:シンガポールのスタートアップのオンラインピッチイベント(ZOOM)
使用言語: 英語
第二部:興味をもった企業同士の一対一のオンライン個別商談会(ZOOM) 30分。
使用言語: 英語または日本語(一部通訳を用意)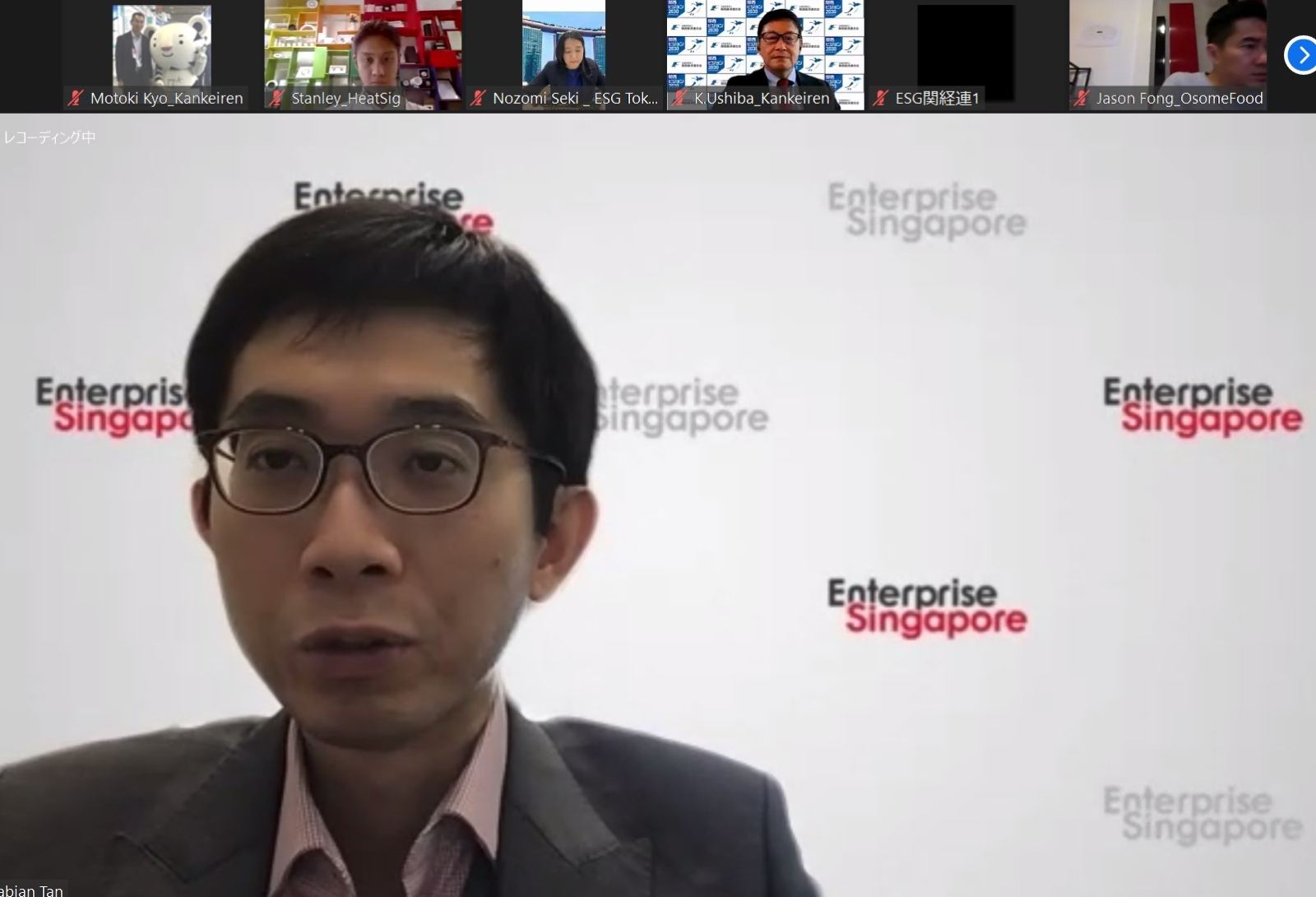 【登壇した介護・高齢化関連のシンガポールスタートアップ】
1. Techmetics Robotics (Automated in-building transportation), 
Techmetics product introduction
Techmetics Robotics is involved in a number of indoor automated transportation robots. In healthcare, the robots are used in hospitals and nursing homes for the automated transport of food, medicines and medical samples, linen and waste. It has a maximum load of 250 kg, a maximum speed of 1.5 m/s, runs for 13 hours on a full charge and can be controlled by a smartphone.
2. Neeuro (Digital therapeutic solutions utilising neurofeedback), 
Neeuro product introduction
Neeuro's vision is to empower all of us to take control of brain health challenges through Artificial Intelligence and Digital Therapeutics. Our Digital Solutions work seamlessly with the Neeuro SenzeBand, a passive, low-powered EEG headset that is designed and produced by Neeuro in Singapore, and with NeeuroOS, Neeuro's proprietary AI platform, that enables the Neeuro SenzeBand to interpret mental states from raw EEG signals. NeeuroFIT for Seniors is one of our Digital Solutions that can used to give seniors opportunities to constantly keep mentally active and healthy. It helps improves and maintains attention, memory, spatial ability, decision making and cognitive flexibility skills.
3. Soundeye (Sound recognition technology), 
Soundeye product introduction
SoundEye core technology is related to sound recognition technology, capable of detecting abnormal sounds such as screaming, severe coughing and explosion. SoundEye's solution is currently being employed in many places such as the airport, nursing homes and orphanages that enhance staff productivity, ensure the safety of residents round the clock and respond to incidents swiftly without undue delay.
4. Illuminating Asia / HeatSig (Heat sensor), 
HeatSig product introduction
HeatSig is a start-up in the Illuminating Asia group of companies, working on heat sensors that are able to capture almost >728 temperature points within a fixed area, both people and the environment, which are reflected as a coloured heatmap on a dashboard. It can also identify humans and specific objects in a space via big data. This technology makes it possible to monitor the body temperature of caregivers and patients, sending an alert immediately to care personnel when detecting any abnormalities (such as a motionless individual). 
5. OSOME Food ((Nutrition-focused, plant-based food), URL; 
OSOME Food product introduction
OsomeFood is a nutrition-focused, plant-based company incorporated in Singapore. We are all about making positive impact on your health and are passionate about providing nutritious functional food that nourishes the body. We stand by an ethical approach with zero-tolerance to anything that would not do our bodies and the planet well. Every ingredient we use to craft our products is pure and natural without any artificial vitamin fortifications for highest bioavailability. Plus, none of our products contain gluten, refined sugars, dairy, preservatives, stabilizers, additives or fake stuff of any kind and hence making our products elderly and patient friendly.