Hosokawa Micron Corporation, a world leader in nanotechnology since its foundation in 1916, has successfully commercialized PLGA capsule technology for medical use developed in a large-scale National Project, applying it to hair-growth products and cosmetics.

PLGA nanocapsules have realized the DDS (Drug Delivery System) challenge required in the medical field for a long time: to safely deliver the necessary ingredients where they are needed and in the required amount. The ultra-micro capsules, 140 nanometers in diameter, quickly penetrate the target site and continue to deliver the encapsulated ingredients with pinpoint accuracy over a prolonged period.

 We were the first to successfully apply the nanocapsules with this superior DDS concept (safety, permeability, and persistency) to the cosmetics field, giving birth to the revolutionary NanoImpact® brand for hair care and the NanoCrysphere® and ExquiRoutine® brand for skincare, which all ensure the penetration of active ingredients into the scalp and skin.

Hosokawa Micron Corporation introduces hair/skincare products with these unique PLGA capsules.

We are currently looking for distributors in ASEAN countries (excluding some).


Delivering the necessary ingredients, where they are needed, in the required amount

No matter how active an ingredient may be, it may not be effective if it can't get inside the skin and reach the target site. ​ ​

Hosokawa Micron Corporation developed PLGA (lactic acid and glycolic acid copolymer) capsules having DDS function. They can efficiently deliver active ingredients inside the skin (up to stratum corneum) and pores (up to hair papilla) and continuously release them for a long time. In other words, it is the role of PLGA capsules to maximize the original effects of active ingredients at the target site.


What is a PLGA capsule?

1. Permeability: It can deliver active ingredients where they are needed. 
PLGA capsules are​ ​ 140 nanometers in diameter (1/2 millionths the size of a pore's cross-section). They are compatible with both water and oil, allowing them to quickly penetrate the stratum corneum covered with sweat or pores clogged with sebum, resulting in the efficient delivery of the active ingredients encapsulated in the PLGA capsules.

2. Sustainability: It can keep the effects of active ingredients for a long time.
PLGA capsules that penetrate the skin and pores can sustain the effects of the active ingredients for a long time to gradually release the active ingredients encapsulated in the capsules through continuous hydrolysis of PLGA. Moreover, the PLGA (lactic acid and glycolic acid) promote the turnover of the old stratum corneum after decomposition as AHA components to support skin metabolism.

3. Safety: It is composed of safe material without accumulation in the body.
The PLGA capsules are safe for the human body since PLGA itself is hydrolyzed into lactic acid and glycolic acid after penetrating the body and eventually discharged from the body as water and carbon dioxide through decomposing metabolically.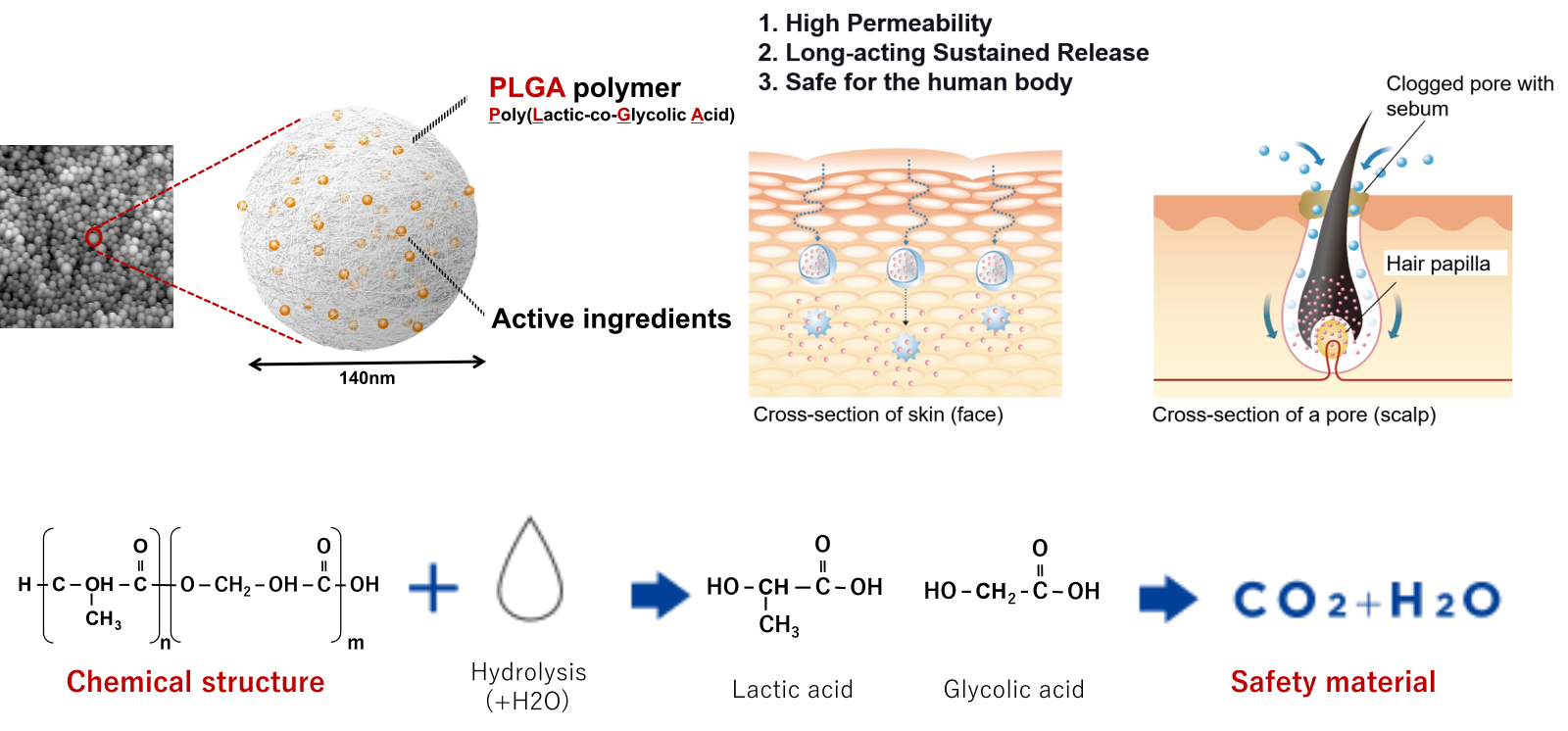 Functional cosmetics containing PLGA capsules

In the year 2000, Hosokawa Micron Corporation took part in a large-scale national project (NEDO Basic Technology Research Promotion Project) to prove the functionality, safety, and stability of PLGA capsules. The company succeeded in developing original cosmetics (NanoCrysphere®, in 2004) and a hair-growth agent (NanoImpact®, in 2006) and received numerous academic, invention, and industry awards.

Both brands have achieved great success in domestic online sales through our sales subsidiary, Hosokawa Micron Cosmetics Corporation. The NanoImpact® hair-growth agent has been our best-selling product since its launch in 2006, selling more than 2 million units.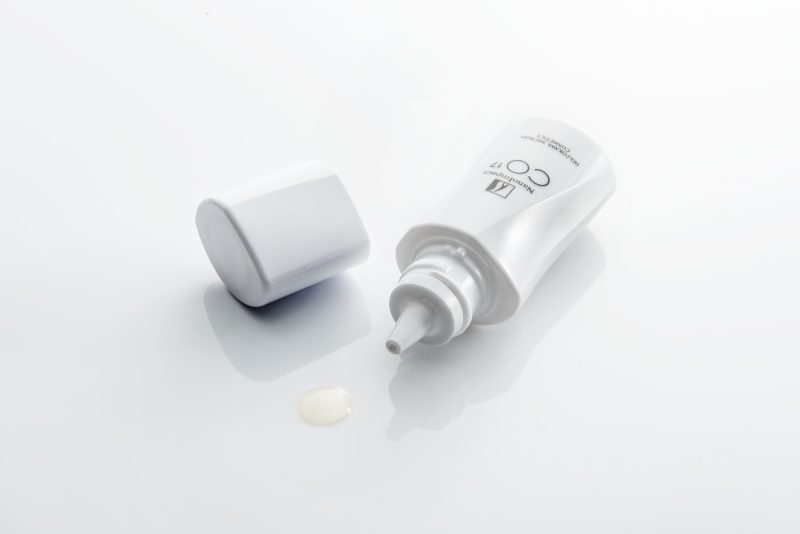 In 2020, a skincare series ExquiRoutine® launched as an original brand developed jointly with a Chinese partner.

Currently, we are expanding sales channels for these original brands into overseas markets. The brands are highly acclaimed both in Japan and overseas.

Brand List 
<NanoImpact®> Haircare brand
1. Co17 (Hair-growth agent for men)
2. Co17 LADY (Hair-growth agent for women)
3. SHAMPOO (Shampoo)
4. CONDITIONER (Conditioner)
5. Grand Cru (Hair growth agent)
<NanoCrysphere®> Skincare brand are brand
1. prime foam 100 (Facial cleanser)
2. prime lotion 100 (Skin toner)
3. prime serum 100 (Serum)
4. prime cream 100 (Moisturizing cream)
5. perfect jelly (Gel-type serum)
6. powdery moist plus (Powder-type serum)
7. puacnes gel (Gel-type serum)
8. eyelash serum (Eyelash serum)
9. eye cream (Moisturizing cream for the eye area)
<ExquiRoutine ®> Skincare brand  
1. RedAdvantage series Lotion Ⅲ (lotion)
2. RedAdvantage series Lotion mask II (Gel-type serum)
3. RedAdvantage series serum I (Serum)
4. RedAdvantage series serum mask I (Sheet-type serum)
(Note) The above contents are based on April 2022 and are subject to change without notice.
If you have any inquiries about products and technology or request for a web meeting, please feel free to contact us using the website below.
https://hosokawamicron-cosmetics-b2b.com/contact/