No water outage, no construction required: Designed to be installed on ball valves or gate valves on your pipelines.
High accuracy: ± 0.5% in all range (no dead zone)
Manufacturer's guaranteed minimum detection flow velocity: 0.003 m / sec
Low price: Especially as a large-diameter flowmeter, it has a significant cost advantage over the conventional electromagnetic type.
Ease of use: An interactive LCD screen with a touch panel helps users in maintenance and operation.

Please consider our ultrasonic flowmeter, a combination of high-performance devices and the latest digital technology.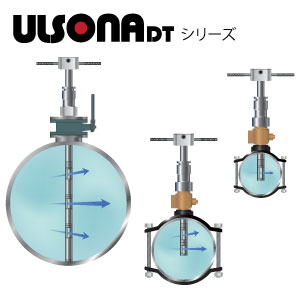 Representative model of insertion type ultrasonic flowmeter
Can be attached to existing ball valves /gate valves. In this case, no water outage or no construction work is required.
High-precision measurement in the entire range from ultra-low flow velocity 0.003m / sec to ± 20.000m / sec. (Accuracy ± 0.5%)
Multi-sensor types DT-2 and DT-3 are for more accurate measurement in places where the flow velocity distribution is complicated.
The applicable pipe diameter is DN80-DN2000.
The interactive controller allows the user to configure, modify, and maintain easily.
For details, from  
the product page